Cartooning, Satire
& the Caricature
Are you feeling a certain kind of way about 2017 and looking for an entertaining and creative way to articulate your thoughts and feelings? The fun begins in 2018, just when you need it most. Join us for a 4-week series and learn the basics of drawing cartoons and using satire to develop caricatures.​
​
Learn how to:
Create a cartoon character

Communicate emotion, movement and point of view through drawing

Express political and social commentary through caricature
​
This beginner-level class is ideal for adults who want to translate a love of art into technical know-how. Ascend into the world of visual art in a fun and engaging environment and expand your artistic vision.
​
Materials included​
4 Sessions
Wednesdays
January 17th - February 7th
11:45 AM - 1:45 PM
​
$95
LOCATION
WESTCHESTER YOGA ARTS*
49 Lawton Street, 2nd floor
New Rochelle, NY 10801
​
Meter street parking available

Buses to Huguenot St./Bridge St. - 7, 30, 42, 45, 60, 61, 62

Metro North- New Haven Line to New Rochelle Station
​
Class is on the 2nd floor of a walk up building. Shoes must be removed upon entrance to the yoga studio.
​
*Westchester Yoga Arts is a newly renovated, friendly yoga studio. For more information about their offerings, please visit http://www.westchesteryogaarts.com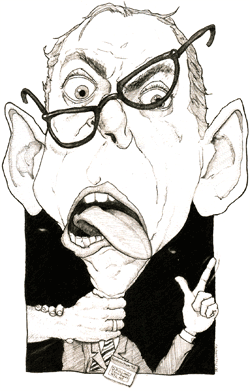 David Pullman is an award-winning and versatile painter and illustrator who lives and works on Manhattan's Upper West Side. His work ranges from portrait commissions, fine oil and watercolor paintings [done with his right hand] to caricature drawings [done with his left hand]. His work has been exhibited at The National Academy of Design, The National Arts Club, Walden International and the Juno Gallery, amongst others. David is a former instructor at Parsons School of Design, 92nd St Y and Marymount College.
​
3WN: How did you get started in this industry?
​
David: I began drawing at a very young age, it was something I was innately interested in. As a kid I loved copying cartoons from the daily comic strips. In class I would daydream and draw to escape the tedious lessons and unhappier aspects of childhood, but mainly for the love of drawing.
​
During high school I discovered a natural ability to draw caricatures, much to the discontent of my subjects, to put it mildly. By the time I entered college and art school I began painting and looking at artists in museums. I studied art and illustration and soon found my work published in magazines, while receiving awards and recognition for my fine art paintings. In a word, art has been my constant companion.
​
​
3WN: What is your teaching philosophy?
​
David: As an art student I had many wonderful teachers who shared their knowledge and these are things I would like to pass on to my students. Beginning with an introduction to basic techniques and materials used for creating a drawing or painting. I also like to exchange ideas and experiences with my students and listen to what they expect to learn and achieve.
​
I have lots of plants, which I take good care of, watching as they blossom and grow. My approach to teaching is similar, nurture my students, encourage them and watch them grow.
______
​
Check out David's article in LINEA magazine here