UP CLOSE & PERSONAL:
The Art of the Sketched Portrait
Sharpen your power of observation. Learn how to draw realistic human portraits and the fundamentals of drawing and portraiture. Take a closer look at the anatomy of the human face while learning to draw facial features. Gain a better understanding of shading and sketching.
​
EXPERIENCE LEVEL
This beginner-level class is ideal for adults who want to translate an appreciation of art into technical know-how. Ascend into the world of visual art in a fun and engaging environment and expand your artistic vision.
​
Includes all art materials and lunch following class
​
* EARLY BIRD SPECIAL
Register by 4/27 and save 15%. Use code SPRING19 at checkout. May not be combined with any other offers.
4 Sessions
Fridays
May 31 - June 21
11:00 AM - 1:00 PM
​
$120*
​
LOCATION
Mac n Wings
4 Franklin Avenue
New Rochelle, NY 10805
​
Street parking available

Buses to Franklin Ave./Main St. - 45, 60, 66

Metro-North New Haven Line to New Rochelle Station
​
Across the street from New Roc City.​
​
​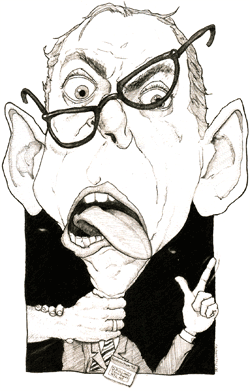 David Pullman is an award-winning and versatile painter and illustrator who lives and works on Manhattan's Upper West Side. His work ranges from portrait commissions, fine oil and watercolor paintings [done with his right hand] to caricature drawings [done with his left hand]. His work has been exhibited at The National Academy of Design, The National Arts Club, Walden International and the Juno Gallery, amongst others. David is a former instructor at Parsons School of Design, 92nd St Y and Marymount College.
​
3WN: How did you get started in this industry?
​
David: I began drawing at a very young age, it was something I was innately interested in. As a kid I loved copying cartoons from the daily comic strips. In class I would daydream and draw to escape the tedious lessons and unhappier aspects of childhood, but mainly for the love of drawing.
​
During high school I discovered a natural ability to draw caricatures, much to the discontent of my subjects, to put it mildly. By the time I entered college and art school I began painting and looking at artists in museums. I studied art and illustration and soon found my work published in magazines, while receiving awards and recognition for my fine art paintings. In a word, art has been my constant companion.
​
​
3WN: What is your teaching philosophy?
​
David: As an art student I had many wonderful teachers who shared their knowledge and these are things I would like to pass on to my students. Beginning with an introduction to basic techniques and materials used for creating a drawing or painting. I also like to exchange ideas and experiences with my students and listen to what they expect to learn and achieve.
​
I have lots of plants, which I take good care of, watching as they blossom and grow. My approach to teaching is similar, nurture my students, encourage them and watch them grow.
______
​
Check out David's article in LINEA magazine here